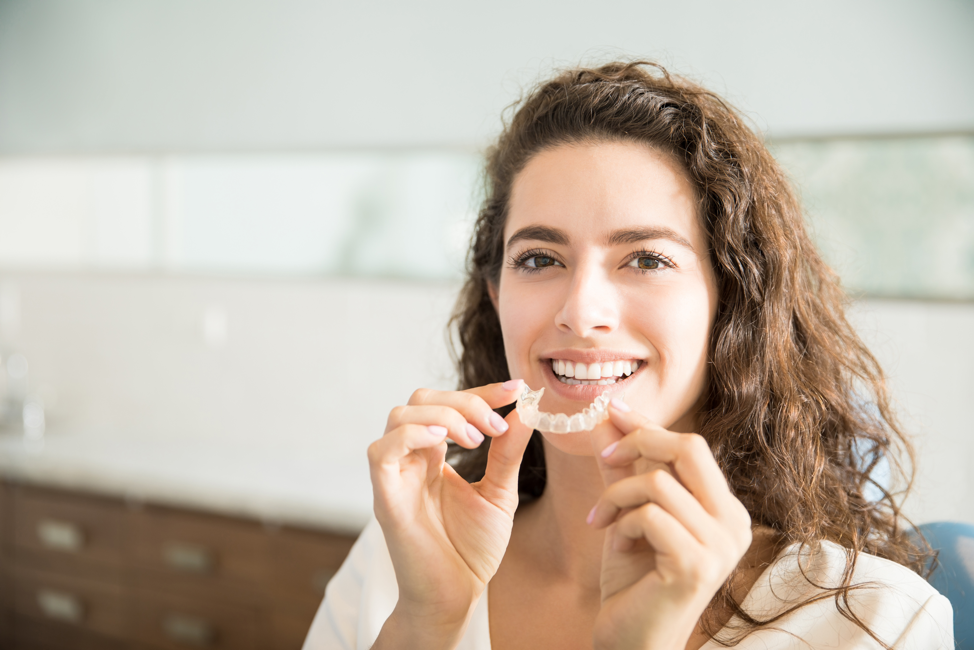 08 Aug

Straightening Your Teeth with Clear Aligners in the Skokie Area

Straightening your teeth in Skokie, Illinois has both aesthetic and functional benefits. As such, many individuals opt for braces. The primary obstacle for most people is that braces can be aesthetically unappealing. Or, are they?

Fortunately, due to the development of clear aligners, you don't have to worry about wearing shiny metal in your mouth. Instead, you can straighten your teeth discreetly.

Interested in learning more about clear aligners? Then read below!
Being Fitted for Clear Aligners
Getting fitted for clear aligners happens over the course of a few different appointments. We'll get into the details of each appointment below.
First Appointment
The fitting process begins by scheduling an initial appointment. At this appointment, you will discuss with your dentist whether clear aligners are a suitable option for you. While most individuals can be helped with this system, there are a select few who may need a different solution.
If your dentist deems you a viable candidate, he or she will discuss the straightening process at greater length. This will allow you to decide if clear aligners are right for you. If you decide that they are, a second appointment will be scheduled.
Second Appointment
At your second appointment, your dentist will take detailed images of your teeth, utilizing photos, x-rays,  and a digital scanner (or traditional impressions). Once these measurements have been taken, your dentist will send your information to the lab prompting them to develop an alignment plan for your teeth.
Within a few weeks, your first set of aligners will be delivered. You will wear these almost constantly, taking them out only to eat.
Follow-up Appointments
Your teeth will not be fully straightened by a single set of aligners. Because of this, you'll have to schedule follow-up appointments with your dentist in order to obtain new aligners.
A number of follow-up appointments will be needed, depending on the movement required for your teeth. Rest assured, that if you go through with the process, you will eventually see the results and will have straighter teeth.
Benefits of Clear Aligners
When compared to traditional braces, clear aligners have a number of benefits. The most prominent of these benefits are as follows.
Discrete Straightening
If you want to avoid the metal brackets and wires that come with traditional braces, clear aligners are just what you need. These aligners are similar to modern retainers in that they're see-through plastic trays, making them almost invisible during use.
If you want the benefits traditional braces while avoiding the negative effects of their appearance, clear aligners could be a great solution for you.
Removable
Perhaps the biggest benefit of clear aligners is that they're removable. Because of this, they don't interfere with one's dental hygiene routine. In other words, they don't hinder your ability to floss or brush your teeth. Not to mention, they allow you to eat freely.
You can simply take them out, clean them, finish your routine, and put them back onto your teeth. That's all there is to it.
Effective
Now, you might be skeptical as to whether clear aligners are as effective as traditional models. Well, they are. For most people, these braces straighten your teeth gradually over time, producing results that are identical to those produced by traditional braces.
Make Use of clear aligners in Skokie, Illinois
Are you interested in clear aligners? If so, and if you're looking for clear aligners in Skokie, Illinois, Dental Innovations has you covered.
Lead by Dr. Thomas E. Murray, we've fitted clear aligners for countless patients throughout the Chicagoland and Skokie areas. Our team of dental professionals would be glad to do the same for you.
Contact us today to schedule an appointment with Dr. Murray!